NEWS
11.62020
【お知らせ】Team Rêve D に 石島 帆高 選手 新加入!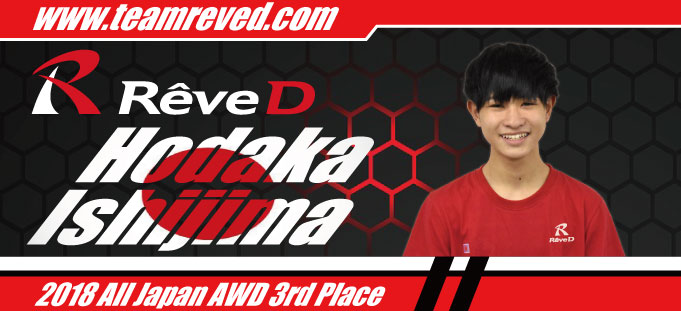 Team Rêve Dに 新たに 石島帆高(いしじま ほだか)選手が加わります!
若干16歳の高校1年生でありながら 既に9年間のRCドリフトキャリアを持ち、2018年の R.C.D.C.全日本選手権 AWDクラスでは 堂々3位の表彰台に上るなど 数々のイベントで上位に名を連ねる実力派ドライバーです!
【石島帆高 選手コメント】
「これから Team Rêve Dで活躍できるよう頑張りますので 皆さん応援よろしくお願いします!」
石島選手は 11月21~22日に 中部国際空港セントレアで開催される R.C.D.C.全日本選手権に MC-1で参戦します。
MC-1を駆って戦う Team Rêve D の応援を よろしくお願いします‼
【Hodaka joined Team Rêve D 】
We are very pleased to announce Hodaka Ishijima has joined Team RêveD!
Please help us welcome him to the dream team! 16year old Hodaka, in his first grade at high school, has already had a 9 years of RC drift career experience including achieving high level driving in numerous events including proudly taking a spot on the podium in 3rd place at the 2018 RCDC All Japan Championship AWD class. !!
Hodaka is a factory team driver who has a powerful drifting skill set and very stable under pressure.
He will show his wonderful driving skills in RC Drift competitions representing Team Reve D from now on.
[Comment by Hodaka Ishijima]
"I will do my best to drive as a member of Team Rêve D from now on, very appreciated for the opportunity"
Hodaka will participate in the R.C.D.C.All Japan Championship, which will be held at Chubu Centrair International Airport from November 21st to 22nd, with MC-1.
Please stay tuned for the young pilot at Team Rêve D fighting with the new MC-1!