RT-TB16A/18/20A/24A/28A/32A/36A/40A【SPMチタン製 ターンバックル シリーズ】¥750~¥1,350(税別)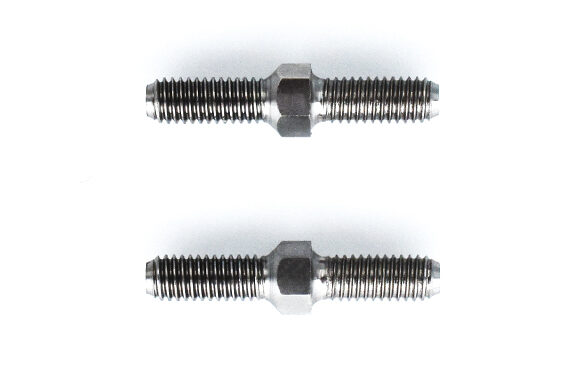 超高精度マシンカットを施した大人気のSPM(スーパー プレシジョン マシンカット)チタンシリーズのターンバックルです!
軽量かつ高剛性のチタン素材を使用して高精度に加工されたターンバックルは、マシンの軽量化のみならず、正確なマシンメイクをも実現します。
輝きのある仕上がりでマシンの高級感もアップする SPMチタン製 ターンバックルを是非お試し下さい!
<ラインナップ>
◆RT-TB16A:SPMチタン製 ターンバックル(16mm、2個入)¥750(税別)
◆RT-TB18  :SPMチタン製 ターンバックル(18mm、2個入)¥820(税別)
◆RT-TB20A:SPMチタン製 ターンバックル(20mm、2個入)¥880(税別)
◆RT-TB24A:SPMチタン製 ターンバックル(24mm、2個入)¥950(税別)
◆RT-TB28A:SPMチタン製 ターンバックル(28mm、2個入)¥1,080(税別)
◆RT-TB32A:SPMチタン製 ターンバックル(32mm、2個入)¥1,200(税別)
◆RT-TB36A:SPMチタン製 ターンバックル(36mm、2個入)¥1,250(税別)
◆RT-TB40A:SPMチタン製 ターンバックル(40mm、2個入)¥1,350(税別)
RT-TB16A/18/20A/24A/28A/32A/36A/40A【SPM Titanium Turnbuckles Series】¥750~1,350(without tax each)
To enhance our popular SPM (Super Precision Machine Cut) Titanium Series with ultra-high precision machine cut threads we are introducing a Turnbuckles !
Perfectly machined with high precision using lightweight and highly rigid titanium material that not only makes the machine lighter, but also helps your machine to be assembled perfectly straight and true!
Made of SPM Titanium with a brilliant finish that enhances your cars luxury look.
Please try the SPM titanium Turnbuckles from us.
<Line-up>
◆RT-TB16A:SPM Titanium Turnbuckles(16mm、2pcs)¥750(excluding tax)
◆RT-TB18  :SPM Titanium Turnbuckles(18mm、2pcs)¥820(excluding tax)
◆RT-TB20A:SPM Titanium Turnbuckles(20mm、2pcs)¥880(excluding tax)
◆RT-TB24A:SPM Titanium Turnbuckles(24mm、2pcs)¥950(excluding tax)
◆RT-TB28A:SPM Titanium Turnbuckles(28mm、2pcs)¥1,080(excluding tax)
◆RT-TB32A:SPM Titanium Turnbuckles(32mm、2pcs)¥1,200(excluding tax)
◆RT-TB36A:SPM Titanium Turnbuckles(36mm、2pcs)¥1,250(excluding tax)
◆RT-TB40A:SPM Titanium Turnbuckles(40mm、2pcs)¥1,350(excluding tax)